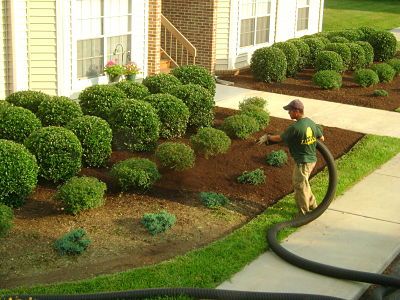 Having mulch blown into your beds can save you time and money. Using our mulch blowing process creates a quick and seamless transition from a mediocre look to a fresh, well maintained landscape. But mulch is not simply cosmetic; it helps sustain soil moisture by reducing evaporation. In turn this minimizes the need for watering. It also helps reduce the germination and growth of weeds. Mulch also serves as an insulator for the root structure of your plants keeping them warmer in the winter and cooler in the summer.
Importance of professional installation
As an industry leader we blow mulch where it belongs, not in you grass or spilled on your driveway. The only change to your landscape will be the beautifully mulched beds. We also know the importance of keeping mulch from being piled around the trunks of trees and creating a bed that gets as close to the plant's drip line as possible.
FOR MORE INFORMATION:
Email: blitton@littonlandscapes.com
Phone 276-620-3976
Fax 276-228-3099
820 N 20th St
Wytheville, Virginia 24382